Bills vs Jets 10AM Sunday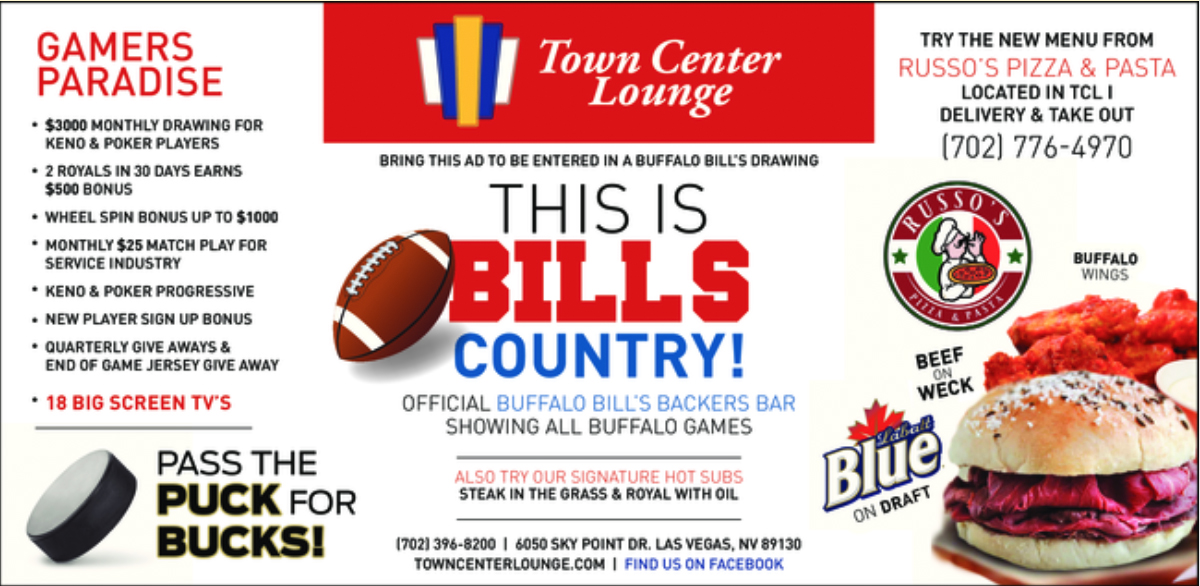 Golden Knights vs Canadiens
Sat 4PM
Sun vs Bruins
Wed vs Ducks
——-
Gaints vs 49ers
Mon 5PM
Quarterly Giveaways!
Thursday Night Football
Packers vs Seahawks
NHL & NBA
College Football Parties each Game
Gaming Highlights
New $3,000 Drawing every 1st of the Month!
Graveyard Specials
$500 Monthly Drawing
Double Tickets
Double Points from Midnight to Six AM Sun-Thur
2 Royals in 30 Days gets you $500 Free Play
[see bartendar for details]
Poker Progressive
Bar Highlights 
Two Happy Hours
2PM-6PM
Graveyard Nightly 12AM-2AM
Bar open 24/7
Thank you for coming and spending time with us. We know you have plenty of choices in Gaming Bars so we will give you the Best experience in Vegas.
We have the latest in Gaming Technology at Town Center Lounge. Penny and 2 Cent Games. Huge variety of Reel Spin,Keno and
Poker games.
Something for everyone,18 BIG screen TV's, a 120″ HD Projection Screen and 2 Pool Tables
We will be updating you and your friends of all the happenings and promotions here at Town Center Lounge from time to time.
Home of the Buffalo Bills and Buffalo Sabres
Kitchen open from 11AM to 11PM
Stop by and check out the great food and Daily Specials