Everyday 2PM-6PM
$2 OFF all Appetizers
 Domestic Beer $3 House Wine $4
****************************************
$1 Wings & $1.50 Fingers
11AM-6PM Mon-Fri
Not Valid with any other offers or Specials. Management reserves all rights.
All Specials Dine-in Only
Party with Us!
We have a Private Banquet Room which can accommodate 40 fun loving guests.
Great for Birthday's, Anniversary's and
Business Meetings for
Breakfast, Lunch or Dinner.
Ask your favorite TCL Member for Info!
NEW MENU BOTTOM of PAGE
Use Our QR Code for Uber Eats Delivery
Or Use Our QR Code for GrubHub Delivery

New $8.95 Lunch Specials
Available Mon-Fri 11am-2pm
10" Cheese Pizza         $1 Per Topping
Chef Salad     Lettuce, Tomatoes, Cucumbers, Ham, Turkey, Provolone Cheese, Choice of Dressing
Spaghetti w/ Meatball    Spaghetti with Homemade Marinara and Meatball
 Grilled Ham & Cheese Choice of White, Wheat, or Rye Choice of Cheese Served with Fries or Pasta Salad
 Turkey Bacon Ranch Wrap Turkey, Bacon, Swiss, Lettuce, Tomato, Ranch Served with Fries or Pasta Salad
 TCL II Burger Sliders (2) Lettuce, Tomato, Mayo Served with Fries or Pasta Salad
TCL II Meatball Sliders (2)  Served with Fries or Pasta Salad
Breakfast Sandwich Choice of Bacon, Ham, or Sausage With Scrambled Eggs, And Hashbrowns
Choice of Cheese (American, Cheddar, Provolone, Swiss, Mozzarella)
$3000.00 Monthly Drawing November!!!!!!!!
&
Guest Appreciation Party, Free Thanksgiving Buffet Plus Each Drawing Night
Each Month  $3000 Drawings  Next Drawing  Oct 11th Wed @ 6 PM
Every Tuesday Double Drawing Tickets Awarded!
  9 Daily Gaming Promos     *    Our Bar is Full of Slots!
Watch & Win while Watching the NFL, NHL, NBA, MLB.
Along with all major sporting events.
Our Sporting Lounge is available for Private Parties.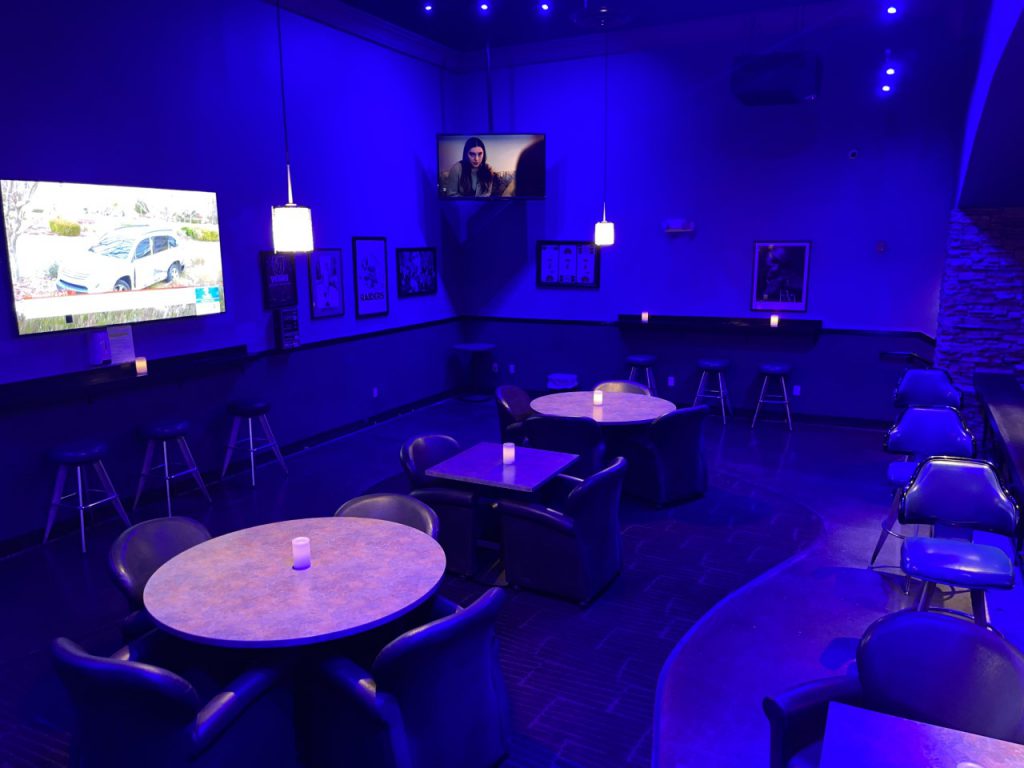 Say Hello to Our Fantastic VGK & Raider Bar Staff
22 Big Screen TV's
  
2 PM-6 PM Everyday
$4 House Wine
$3 Draft Beer
Served in Bar Area Only
Bar open 24/7
Sunday-Thursday 8 AM-11 PM   Friday & Saturday 8 AM-2 AM
Appetizers & Soups  Homemade Marinara, Homemade Ranch, Teriyaki & Honey Sesame
Breaded Mushrooms…………………………………………….9.99                   Onion Rings……………………………9.99
Mozzarella Sticks (5)…………………………………………….9.99                    Zucchini Sticks……………..………..8.99
French Fries………………………………………………………….5.99                    Sweet Potato Fries…………………8.99
Jalapeno Poppers (6)……………………………………….…10.99                    Crispy Potstickers(5).……………10.99
Sampler Platter..14.99  Breaded Mushrooms, Mozzarella Sticks, Jalapeno Poppers, Crispy Potstickers, French Fries
Soups: Pasta Fagioli or Italian Wedding Soup……………..6.99
Wings & Fingers with Fries  Extra Ranch or Blue Cheese  .75
Choice of Sauces, Bar-B-Que, Teriyaki, Garlic Parmesan, Buffalo Mild, Medium & Hot, Ranch or Blue Cheese
Chicken Wings-5……………………………….………………..9.99       Chicken Fingers-3 ………..…………………..…..8.99
Chicken Wings-10………………………………………………17.99      Chicken Fingers-5 ……….….……………….….11.99
Chicken Wings-15………………………………………………21.99      Chicken Fingers-10 ……………………………..22.99
Fresh Salads
Ranch, Italian, Caesar, Blue Cheese, Balsamic Vinaigrette
TCL II Dinner Salad…Lettuce, Tomato, Cucumber……..6.99
Caesar Salad…………………………………………..……………….9.99
Chicken Caesar Salad………………………………………..…..14.99
Antipasto Salad….14.99   Lettuce, Ham, Salami, Pepperoni, Provolone Cheese, Olives, Roasted Peppers & Tomato
½ LB Angus Beef Burgers   Cheese 1.50 Served with Lettuce, Tomato & Mayo- Fries, Build Your Own                                       
Hamburger……………………………………………………………………12.99
 Cheeseburger…………………………………….…………………………13.99      
Bacon Cheeseburger…………………………………………………….14.99      
Mushroom Swiss Burger…………………………………………..….14.99
TCL II Sliders add Cheese 1.00 
 (3) Burger Sliders…13.99 Lettuce, Tomato & Mayo- Fries                 
(3) Meatball Sliders13.99- Fries   
 Cheese: American, Cheddar, Swiss, Provolone, Mozzarella
Cold Subs with Fries-Lettuce,Tomato & Mayo                                                                             
Ham Cheese…….………12.99                      Turkey & Cheese………………………12.99                                  BLT…White, Wheat, Rye.11.99         
Chicken Caesar Wrap………..…….12.99           Italian Sub……………………….13.99   Ham, Salami, Pepperoni, Provolone & Italian Dressing       
Club Sandwich.………….…14.99   Sliced Ham, Turkey, Bacon, Lettuce, Tomato, Mayo, Choice of Bread & Cheese  
 Hot Subs with Fries                                                                                                                               
 Chicken Sandwich Lettuce Tomato, Mayo……..………………….…………..……12.99       
 Buffalo Chicken Lettuce, Tomato, Provolone, TCL IIS auce…………………..13.99                
 Philly Cheese Chicken with Peppers & Onions…………………………………….13.99                                                              
 Philly Cheese Steak with Peppers & Onions……..………………………………13.99                                                                   
 Meatball w Mozzarella……..……………………..…………………………………………………13.99                                                              
 Homemade Italian Sausage w Mozzarella Cheese Peppers & Onions..13.99                                                      
 Marinated Chicken Milanese Sandwich……………….13.99   Chicken Cutlets w/ Seasoned Breadcrumbs,  Roasted Red Peppers, Fresh Mozzarella, Arugula, Oil & Vinegar & Marinated Sicilian Olives                                                                      
Grilled Caprese Sandwich……………………………….……9.99    Fresh Buffalo Mozzarella Cheese, Sliced Tomatoes, Basil Pesto on Choice of Bread & Marinated Sicilian Olives                                                                                 
Black & Blue Steak Sandwich with Fries ……15.99   8oz Filet Mignon Blackened & Chargrilled Blue Cheese Crumbles, Caramelized Onions,                              Roasted Garlic Aioli on a Hoagie Bun, Marinated Sicilian Olives
Pizzas
Cheese 10" Small 10.99          16" Large 14.99
Build Your Own Pizza
Small $1 per Veggie Topping Small, $1.75 per Meat Topping 
Large $1.50 per Veggie Topping Small, $2.50per Meat Topping
Pepperoni, Homemade Italian Sausage, Chicken, Bacon, Ham, Meatball, Onions, Peppers, Mushrooms, Tomato, Pineapple, Olives, Jalapeno
Dinners  include Dinner Salad & Garlic Bread
Pasta Dinner with Marinara sauce choice of Spaghetti, Penne or Rigatoni ..….12.99
                With Meatballs 15.99 with Homemade Italian Sausage 18.99
Chicken Parmesan Dinner with Pasta, Garlic Bread ………………………………..………….…..….16.99
Yankee Pot Roast with Mashed Potato, Mixed Vegetables, Bread…………..……………..……16.99
Atlantic Salmon Lemon Butter Wine Sauce with Mixed Vegetables, Rice Pilaf ………….…18.99
New York Strip Steak with Mixed Vegetables choice of Rice Pilaf or Mashed Potato…….17.99
Side of Meatballs with Garlic Bread…5.99             Side of Homemade Italian Sausage with Garlic Bread… 8.99            Side of Garlic Bread…2.99
Dessert  Ice Cream……………..$4.99                   Warm Brownie with Ice Cream…….$7.99
Coffee, Tea $3.00    Iced Tea & Soft Drinks $2.50 
Breakfast all Day starting at 8 AM
French Toast (Large Texas Toast with 2 Eggs cooked your way) Hash Browns……..……………..….7.99
Bacon or Homemade Sausage with 2 Eggs your way + Hash Browns & Toast….…………….10.99
Build Your Own Omelet 3 Eggs with Cheese + Hash Browns & Toast……………………..…………..9.99
American, Cheddar, Swiss, Provolone, Mozzarella
Ham Bacon or Homemade Sausage add 3.00      Onion, Peppers, Tomato, Mushrooms add 1.00 each
New York Strip Steak with 2 Eggs cooked your way Hash Browns & Toast……………………16.99
Breakfast Sandwich Choice of Bacon, Sausage or Ham with Cheese, Scrambled Egg & Hash Browns.10.99
Coffee, Tea $3.00    Iced Tea & Soft Drinks $2.50